EdUCate! is a non-profit foundation established in 1993 with the goal of providing supplemental funds to all five University City public schools.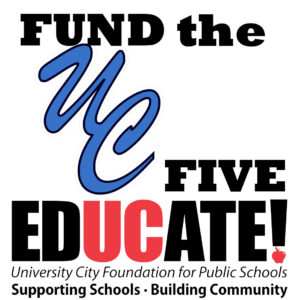 In lieu of Oktoberfest, EdUCate! is holding a fall fundraiser auction and a Dollar-A-Day campaign. The auction is over but you can still support your schools. Choose to be a Dollar-A-Day donor at $365 and fund a classroom for the whole year (1 teacher and 30 students).  Or donate $180 for $1/school day or ANY amount!
Do you know a teacher, counselor, or staff member who has made a difference in your child's life?  Thank them through EdUCate!'s Honor A Teacher program. Make a donation in their name and they will be honored at a staff meeting, in our newsletter, and online and they will receive a gift and a personal message from you.
Students Benefitting from Your Donations
Number of Classrooms Supported
"My colleagues and I would like to thank you for funding Channel One News for our 3rd grade students at Doyle. This daily news show has supported critical thinking and strengthened listening and speaking skills. Our students look forward to this portion of their day as they learn about what is happening in our world. […]
Thank You
Fund the UC Five
Sponsors
Stay in touch. Subscribe to our email newsletter.