EdUCate! is a non-profit foundation established in 1993 with the goal of providing supplemental funds to all five University City public schools.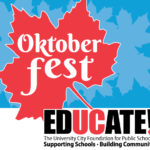 Save the date! Saturday, October 9, 2021, 12th Annual Oktoberfest at Standley Park on Governor Drive. Games, food, drink, music, booths, beer & wine garden. Join us for a fun-filled afternoon that raises money for our University City public schools.
Do you know a teacher, counselor, or staff member who has made a difference in your child's life?  Thank them through EdUCate!'s Honor A Teacher program. Make a donation in their name and they will be honored at a staff meeting, and in our newsletter and they will receive a gift and a personal message from you.
Students Benefitting from Your Donations
Number of Classrooms Supported
The microscopes at Standley being used by science department were more than 20 years old, most of them having been broken and repaired from use over time.  They were not reliable, and not enough of them worked to be helpful. So the science department asked EdUCate for 36 new microscopes, a full class set, to […]
Thank You
EdUCate!
Partners!
Stay in touch. Subscribe to our email newsletter.