EdUCate! is a non-profit foundation established in 1993 with the goal of providing supplemental funds to all five University City public schools. 
Support EdUCate! while you shop
Did you know your purchases can make a difference? EdUCate! receives a fee from Amazon, AT NO COST TO YOU, when you do your shopping through this link.  EdUCate! Amazon Link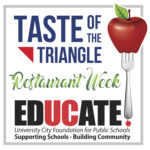 Taste of the Triangle Restaurant Week is July 11-18, 2020. Take a break from cooking.  No tickets!  No percentage for EdUCate! Just support our wonderful Taste of the Triangle restaurants by ordering Take Out or Dining Outside.  See our restaurant line up and links to their websites.

School is online but they still need your help! Just $1 per school day ($180) or $1 per calendar day ($365) helps fund Teacher Grants, Principal Grants, EdUCate! Math Academy, Jr Achievement BizTown and more. It's cheaper than coffee!
Do you know a teacher, counselor, or staff member who has made a difference in your child's life?  Thank them through EdUCate!'s Honor A Teacher program. Make a donation in their name and they will be honored at a staff meeting, in our newsletter, and online and they will receive a gift and a short personal message from you.
Students benefiting from your donations
Number of Classrooms Supported
The microscopes at Standley being used by science department were more than 20 years old, most of them having been broken and repaired from use over time.  They were not reliable, and not enough of them worked to be helpful. So the science department asked EdUCate for 36 new microscopes, a full class set, to […]
Thank You Business Sponsors
Cum Laude $2500+
Stay in touch. Subscribe to our email newsletter.