Thanks to all who participated in the Summer Raffle and Restaurant Week!

Updates for Spring 2023 Taste of the Triangle will be posted here sometime shortly after Oktoberfest.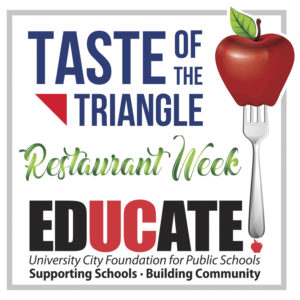 Summer Raffle &
Restaurant Week
Visit our amazing Golden Triangle restaurants this summer
Raffle: Sun, July 31, 5 – 7 pm
Standley Park @ UCPC Summer Concert
Come visit the EdUCate! booth at Standley Park at the University City Parks Council (UCPC) Summer Concert and participate in our Raffle while you listen to the talented local band – Electric Waste Band.  We have many great items such as Padres tickets with Joe Musgrove signed baseball, museum passes, Del Mar Thoroughbred Club season tickets, golf, wine-tasting, restaurant gift cards and so much more!  No cash?  No problem!  We take Venmo, PayPal and credit card.
Check Out Our Raffle Items!
Baskets:
In-N-Out Burger Basket – 10 meal cards (approx $9 ea), Themed items – Water bottle, T-Shirt (Med), Frisbee, Chapstick, Blanket
Sprouts Basket – $50 Gift Card, Coconut Water, Sprouts Organic Marinara Sauce, Grain-free Tortilla Chips, Green Pea Rotini, Chickpea Fusilli, Lemon Snaps, Roasted Seaweed
Padres Basket – Padres Game Tickets (4 tickets), Joe Musgrove Signed Baseball, Padres Hat, Padres Foam Baseball
Art & Museum Packages:
San Diego Air and Space Museum (4 passes)
USS Midway Museum (4 passes)
San Diego Natural History Museum (4 passes)
The Fleet Science Center (2 passes) – Located in beautiful Balboa Park, home to 100+ hands-on exhibits, San Diego's only Giant Dome Theater, North Store Science Store & Craveology.  For current Films and Exhibits, call (619) 238-1233 or visit www.fleetscience.org.
Art on 30th, 'Art 101' Class ($99)
San Diego Museum of Art (4 passes)
SOHO (4 passes) – Marston House ($60 val) OR Warner-Carillo Ranch House ($20 val)
Great Gifts and Activities:
Gift Cards: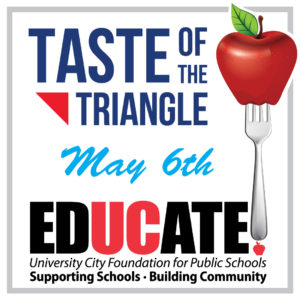 Taste of the Triangle!
Date: Friday, May 6, 2022
Location - This is an Outdoor event!
Announcement coming soon!
General – $65
UC School Staff – $45
VIP Donors – Have you donated $500 or more to EdUCate! this school year?  You are eligible to receive two (2) complimentary tickets to attend the VIP reception and the main event. Email taste@uc-educate.org

if you have already reached the VIP level or have any questions.
Tickets are held at the door.
Are you interested in being in our restaurant lineup or donating to our silent auction? Contact taste@uc-educate.org.
Event Highlights
Restaurant Tastes – Restaurants and chefs from in and around the Golden Triangle bring samples of their cuisine to taste.
Beverages – Each ticket includes one voucher for beer, wine or soda.  Additional drinks available for purchase.
Silent Auction – The Auction will open online 1 week before the event and continue at the event.  Select 'Buy It Now' before the event and it is yours!  There will be exclusive items available for bidding only at the event.
Sponsor a Teacher – Teachers may be sponsored to attend the event.  Stay tuned for announcements when teacher sponsorship requests are posted.
VIP Reception – Donors who have donated a total of $500 or more to EdUCate! this school year are eligible to attend the VIP Reception and receive two (2) complimentary tickets to Taste.
Thank You to Our Sponsors