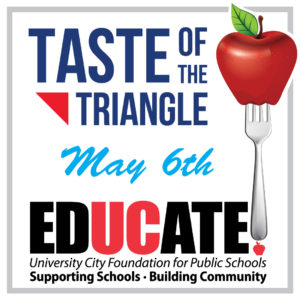 Taste of the Triangle!
Date: Friday, May 6, 2022
Location - This is an Outdoor event!
Announcement coming soon!
General – $65
UC School Staff – $45
VIP Donors – Have you donated $500 or more to EdUCate! this school year?  You are eligible to receive two (2) complimentary tickets to attend the VIP reception and the main event. Email taste@uc-educate.org

if you have already reached the VIP level or have any questions.
Tickets are held at the door.
Are you interested in being in our restaurant lineup or donating to our silent auction? Contact taste@uc-educate.org.
Event Highlights
Restaurant Tastes – Restaurants and chefs from in and around the Golden Triangle bring samples of their cuisine to taste.
Beverages – Each ticket includes one voucher for beer, wine or soda.  Additional drinks available for purchase.
Silent Auction – The Auction will open online 1 week before the event and continue at the event.  Select 'Buy It Now' before the event and it is yours!  There will be exclusive items available for bidding only at the event.
Sponsor a Teacher – Teachers may be sponsored to attend the event.  Stay tuned for announcements when teacher sponsorship requests are posted.
VIP Reception – Donors who have donated a total of $500 or more to EdUCate! this school year are eligible to attend the VIP Reception and receive two (2) complimentary tickets to Taste.
Thank You to Our Sponsors!