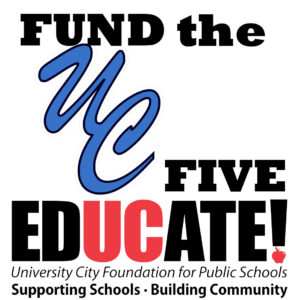 The EdUCate! Foundation for University City Public Schools is asking for your help this fall. Sadly, there will be no Oktoberfest fundraiser but the NEED IS STILL THERE, especially for virtual teaching, e-learning and necessary equipment.
A donation of a Dollar-a-Day of $365 supports 1 Teacher – 30 Students – 1 Classroom
You can also participate in our online auction, Oct 10-18, and win great items and packages from Trader Joes, VONS, Bristol Farms, golf, local artists, guitar lessons, jewelry, dinners, gift cards, and many more while helping our UC schools. Donate or bid below.
Remember, strong schools help keep our community strong!
Thank you to our Major Sponsors!